New photos can be found starting here, with my Simpsons lay out.
viewtopic.php?p=2667310#p2667310
I've been meaning to take photos for the longest time... a year or two. But I am a very lazy man, so I kept putting it off. Plus my figures get very dusty and I didn't want to show off the dust covered plastic.
I got out a swiffer and now have some shelves ready for presentation.
I'm mainly into Simpsons and Marvel, with Star Wars and various cartoons and anime coming up afterwards. I have some DC stuff, a ton of Dragonball figures and various other things.
I'll start off with some of my Marvel stuff. This is my dresser which has most of the larger BAFs, along with the Avengers Mansion (AKA Buffy's library). I've kept the Avengers to pre-New/Mighty characters, so dudes like Sentry, Wolvie and Ronin are elsewhere.
Oh and there is a custom figure of me in my cartoon form.
I love the old ML and Spidey figures that came with wall mountable bases. I also love putting my flying figures up on the wall as well. I have Doom standing on the base that came with MS Thor. The Nightcrawler "bamf" is actually the base that came with the Most Wanted Blink figure, with one of the waist clips from the Spidey classics.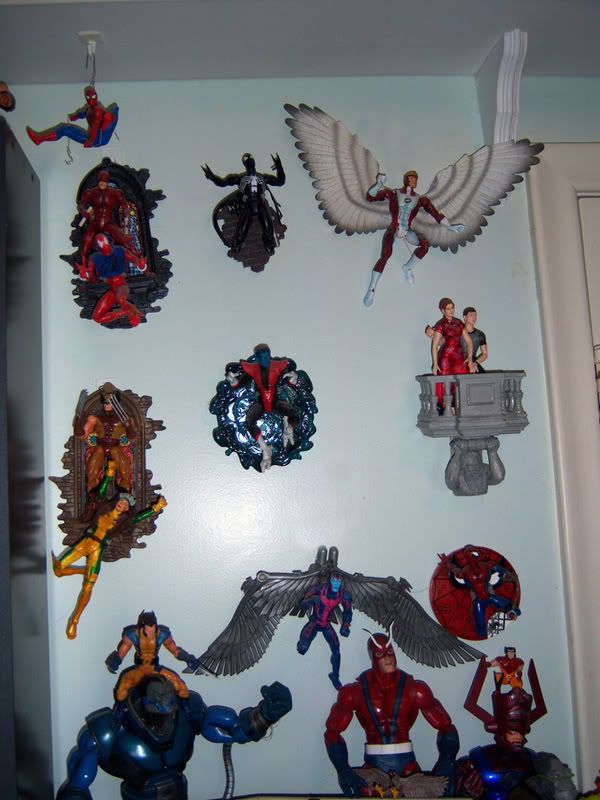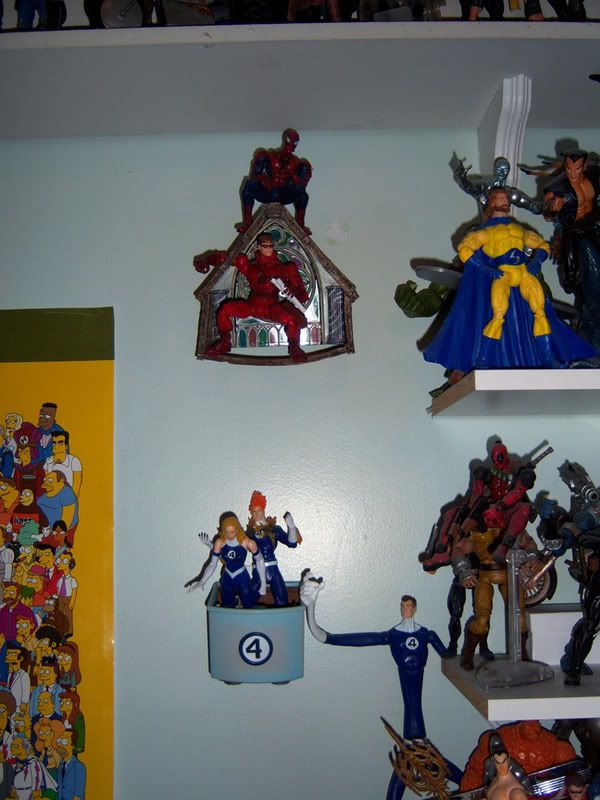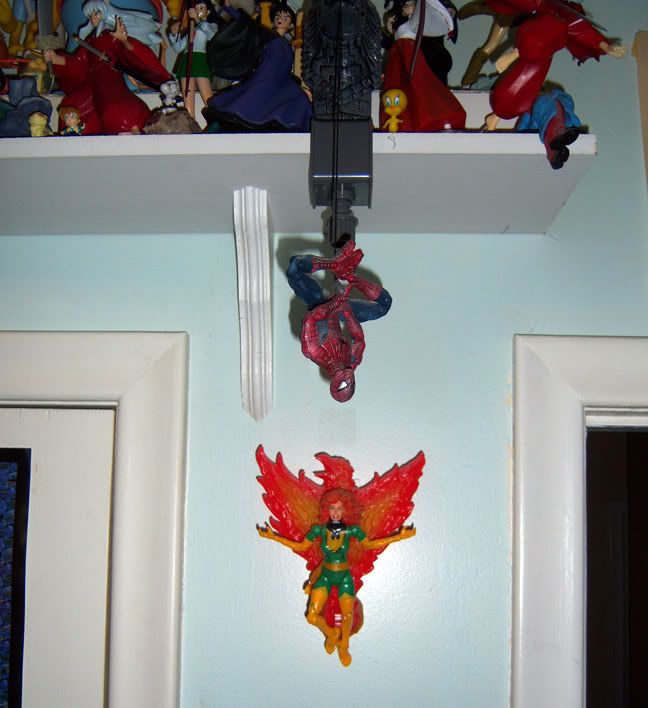 I'll post the rest of my ML figures later, as there is quite a bit to do, and I am, as I said, lazy. Here are some of my Marvel Kubricks, along with the animated Star Wars, Monkey Ball and some Superhero Showdown figures. This is on top of my two skinny DVD shelves from IKEA.
Lastly, here are my trades, along with some games that I am currently playing. In front we have some South Park mini-figures, Buddy Jesus, Aqua Teen Hunger Force, Giant Man and Lawyer She-Hulk. Underneath are some other figures I didn't know where to put so they got shoved into a corner. Love Hina mini-figures, some Dragonball, Simpsons, Final Fantasy and Star Wars figures as well.
I'll post some more shots later today or tomorrow. I hope you liked my collection so far!